A Deep Dive With Transformative Fashion Designer Iris van Herpen
We met with Van Herpen before the pandemic to discuss her recent collection Sensory Seas; and then circled back to get her visionary perspective on the crisis
Iris van Herpen defines the unexpected—in her designs, her use of fabrics, her multidisciplinary collaborations, and state-of-the-art techniques. Widely heralded as a transformative force within fashion and technology, Van Herpen promises to defy expectations, innovate and enchant audiences with her creations. We met with Van Herpen—before the pandemic to discuss her recent collection Sensory Seas; and then circled back to get her visionary perspective on the crisis:
"The current worldwide pandemic is an important moment for our industry and all brands to stop and re-evaluate their future goals and their integrity, to implement a change of direction."
Our conversation was nothing short of visionary—a philosophical exploration into the designer's mind and the urgent need to return to a symbiotic relationship with nature. As we face this global crisis, Van Herpen's eminent commitment to innovation and sustainability feels more relevant than ever-ringing like an enlightenment in dark days. "Inside this silence, space is created for radical new morals, goals and dreams for a more beautiful future for fashion." As the world experiences a collective shift to adapt to our new reality, we invite you to dive deep into the world of Iris van Herpen and re-emerge transformed.
SPECIAL THANKS TO TOBIAS HEINRICHS AND THE WHOLE IRIS VAN HERPEN TEAM
Iris van Herpen's studio is a remarkable space in a repurposed warehouse in Amsterdam's city center, alongside the river IJ. The former luxury goods depot (dating 1898) is a maze of massive wooden doors, stairwells, atriums and artist studios, and is notably removed from the Parisian world of haute couture. The weather is temperamental and unpredictable in Amsterdam today, but when we meet in her studio the sun breaks through the arched windows that overlook the city's waters – revealing the miscellaneous precise craftsmanships her team is attending to. The latest collection alone made use of hand-embroidering, the 3D laser cutting of silk, software-rendered creations, manual embellishments, carving out screen printed meshworks and techniques far beyond your standard fashion studio. Her vision is astounding and feels palpable in the room, yet her presence is remarkably humble and her attentiveness generous. She greets me warmly and appears keen to delve into our conversation. We sit down to dive into Van Herpen's conceptual mind, to discover how transformation is of pivotal importance to her groundbreaking designs.
A fascination for movement and metamorphosis, she explains, has been with her from the very beginning. From her background in dance and throughout her career in fashion, a need for fluidity and forward motion has perpetually propelled her. Transformation is also exactly what spurred her latest collection. "I have been inspired by the deep sea for a really long time, which I think you can recognize in my work. For Sensory Seas, I started doing some research into the Hydrozoa, which is a marine class that has two distinct physical stages in its life – a medusa stage and a polyp stage. I thought it was really beautiful the way they transformed within their own lifetime. It's almost unimaginable for us, as a female body, to think we could transform so radically." In line with her ongoing attraction to duality, she began to see a connection between the mysterious oceanic creatures and neuroscientist Ramón y Cajal's 19th-century drawings of our central nervous system. "They say that 95% of the deep sea is undiscovered – that's quite an extreme figure if you think that it's relatively close to us. The way we've only recently started exploring our brains is similar to that. I felt I wanted to put these separate worlds together, in my own creation."
"A lot of the collections come from a really primitive urge to discover." Van Herpen explains, "I am motivated by that curiosity, and perhaps an element of frustration with limitations. When something seems impossible, out of reach, it becomes more interesting to me." Driven by the challenge, she describes the inner workings of her own mind as labyrinths – with plenty of unexpected routes and dead ends. She is dedicated to provoking herself beyond what she knows, inviting failure at every turn. "I need the maze, but if the maze becomes too clear in my mind, it becomes dangerous for my creative process. I am an extreme perfectionist, so I've learned that introducing an element of disruption or chaos into my work creates more growth."
digital artist LISANNE LESSE KUTA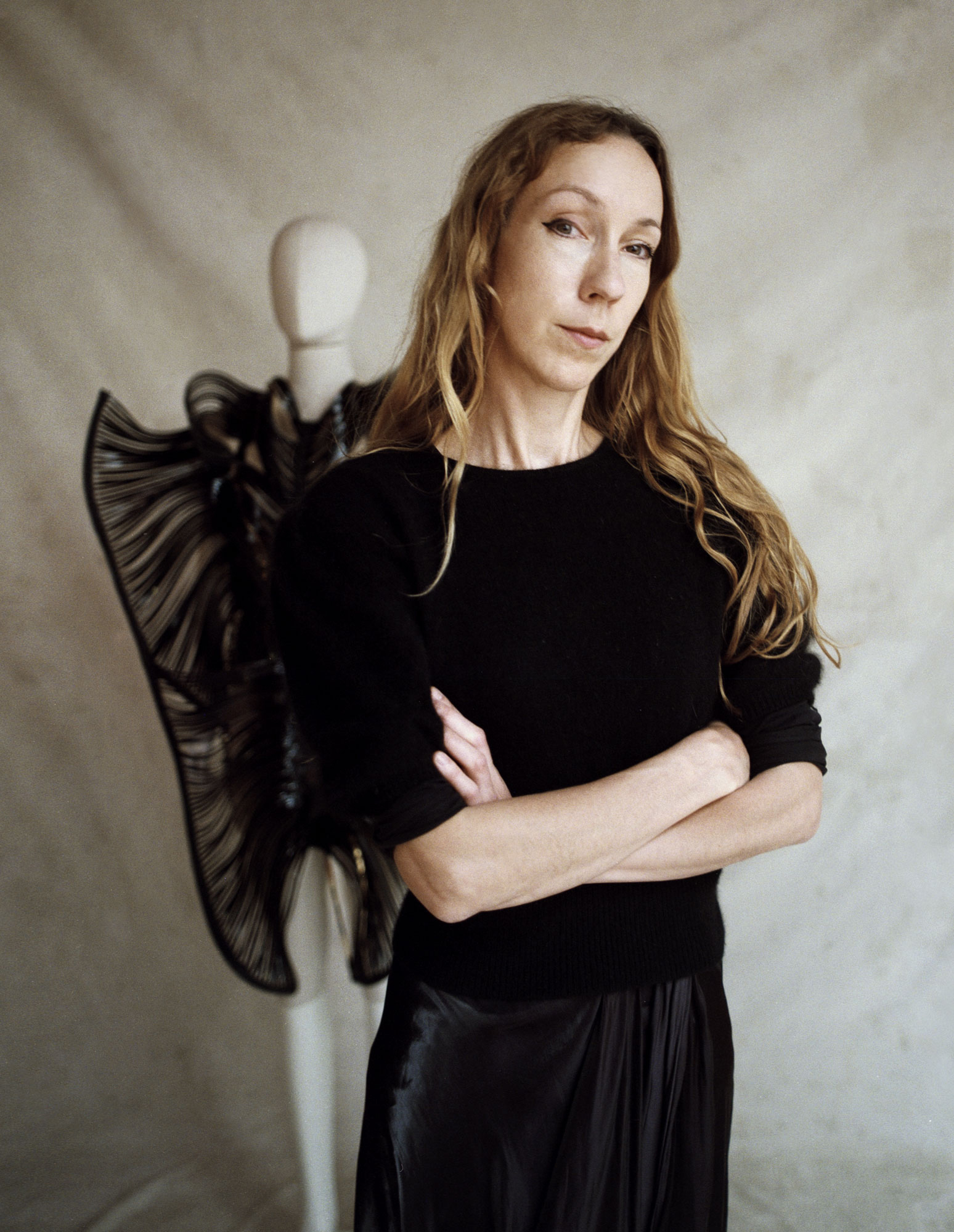 "The current worldwide pandemic is an important moment for our industry and all brands to stop and re-evaluate their future goals and their integrity, to implement a change of direction." 
Venturing into uncharted territories often means defying the parameters of disciplines, making Van Herpen a frontrunner of multidisciplinary collaborations at the nexus of fashion, design, technology and science. Her projects range from collaborating with architects on innovative fabric construction, corroborating with biologists and physicists, and working with installation and sound artists to build entire ecosystems around her runway presentations. She was the first to introduce 3D printing as a means for dressmaking, catalyzed by her desire to design a dress that embodied a splash of water. The idea arose when approached by famed Benthem Crouwel Architects to design a piece to accompany their extension to Amsterdam's Stedelijk Museum for contemporary art, known colloquially as the bathtub. "I found out that it was completely impossible to 3D print transparent or organic shapes at the time, so I ended up making the Splash dress by hand," which she accomplished by heating and reshaping a piece of transparent proprietary acrylic. The failure became the impetus for Van Herpen's breakthrough Crystallization collection (2011), inspired by the transformation of liquid into crystals and other divergent forms – including 3D-printed garments made in collaboration with architect Daniel Widrig.
This striking innovation set the stage for a career defined by materials and techniques both unconventional and pioneering – not only turning heads in the fashion industry, but also catching the attention of audiences interested in technological progress at large. "I feel very thankful that we reach audiences far beyond the fashion world, demonstrating the importance of collaboration between different disciplines. We need help to create new tools to evolve the craftsmanship we already know; these are small steps towards closing those really open waters between these disciplines." The importance of this perspective reaches far beyond personal ambitions and intrigue, and relates directly to Van Herpen's growing sense of urgency and responsibility towards the dire state of our climate. "In the last few years, sustainability and our vision towards the future has become increasingly important. I realize the industry we work in is one of the few that will help determine the future of our planet."
"I see couture as a laboratory for the future of fashion—one where experimentation can help us create a new system that makes sense in the 21st century." Beyond representing an antithesis to mass production, each garment is created on demand and able to be produced with zero waste. Couture holds the potential to pioneer alternatives for a revamped fashion industry of tomorrow—using new technologies to develop sustainable textiles and production techniques. "Couture is where fashion is closely connected to art and where fashion has the space to take risks. Risk taking is essential in moving forward." When I asked whether van Herpen sees herself as part of that revolution, her response is characteristically grounded and ambitious: "I feel I can inspire people, by demonstrating that it can be done differently. I can only hope to create a little wave that will feed a bigger wave."
While her work is radically future-facing, Iris van Herpen senses a discord in our contemporary perception of the world. While technology may provide tools to reinvent the industry, she fervently believes that answers can only be found in acknowledging nature's extraordinary intelligence, complexity and beauty. An abundance of her collections are inspired by natural patterns and elements, including membranes, fossils, soundwaves and smoke. Yet viewers often experience and describe these designs as fantastical, as other. Van Herpen is visibly enthralled when we breach the subject. "It seems that we have separated ourselves spiritually from nature. But we are nature. Even the things we create are nature." She is on the brink of something quintessential to her worldview. She radiates confidently and calmly as she shares that she finds comfort in knowing that "nature has done it all, and better. In that sense, nature is my biggest mentor and muse."
Van Herpen shares her fascination for entangling art and nature with a long-standing friend, Björk. Their partnership emerged around Björk's 2011 Biophilia album, when she wore a dress based on Van Herpen's Synesthesia collection (F/W 2010). Many collaborations later, for her Cornucopia show in New York last year, Björk invited Van Herpen to produce a garment visualizing the theme of her latest album, Utopia: a sci-fi soundscape of a post-apocalyptic world. The result was an interactive and sculptural custom dress, a future orchid-avatar, entitled Sphaera. I ask her how she experiences creating with someone else's vision in mind; she is brimming with enthusiasm as she shares: "Björk is one of those rare people that mixes the very pure relationship she has with nature into these newly imagined worlds of chaos, technology and the unknown. Her utopic vision towards our future, the transformations that await us, blends these primal emotions with a very natural need for beauty, and that inspires me. She really is a muse to me."
Van Herpen is a woman of seemingly boundless creativity and fascination.  Whether drawing from the textures of the deep sea, environmental philosophy or her trailblazing contemporaries, her expansive vision all comes together in a silhouette, encircling the female form.  It should come as no surprise that her designs draw in an impressive sequence of striking, front-running women (and on occasion men) from their many corners of show business.  Placing her works of art under the glamorous Hollywood spotlight, an impressive roll call of A-list celebrities have worn her conceptual creations on the red carpet, in magazines and music videos, or as part of her phenomenal couture shows: Celine Dion participating in her Hypnosis runway, Naomi Campbell at Paris Fashion Week, FKA Twigs in Vogue magazine, Eva Green at various Hollywood red carpets, Solange at the Met Gala and Lady Gaga at the Toronto International Film Festival, to only name a few.  "I feel very lucky for the women we've worked with – they are some of the most extraordinary women I have ever met," Van Herpen says.  A personal connection is a fundamental condition to each of these collaborations – these women are not simply dressing in a garment by Iris van Herpen, they are participating in her art. "The garments are not complete until they are worn by a woman. That's when the magic happens and it comes to life. It transforms into an expression of identity, and that is something I cannot design." Just as her designs are transforming the industry, they are transformative in themselves.  "It's a lifecycle, in my eyes. I find it incredibly beautiful when the circle of life is completed."
As society at large lives in a form of quarantine, we circle back to Van Herpen, to weigh in on how her visionary perspective entangles with the crisis in real time. Within weeks, even moments, her dire call for action has been drastically underlined by circumstance – we need change. "The current worldwide pandemic is an important moment for our industry and all brands to stop and re-evaluate their future goals and their integrity, to implement a change of direction." The future of fashion – the future of our planet – needs us to rethink our ethics and techniques moving forward. Her grounded optimism remains unwavering; investing in innovation and sustainability offers real alternatives to the decades of detrimental developments in our past. "Collaboration and the sharing of expertise among specialists in diverse disciplines is the future of fashion. This will advance fashion in ways previously unimaginable." Seeking answers in transformation, Iris van Herpen envisions how embracing radical change can pave the way towards a sustainable future of fashion, one which naturally adapts to the times. Following her lead, with open eyes and open minds, we take our first steps into a changed world.