Laura Harrier in Conversation with Bria Vinaite
TSI EDITOR-IN-CHIEF MARY ROZZI AND STYLIST MINDY LE BROCK PHOTOGRAPH LAURA HARRIER FOR THE COVER OF OUR SPRING DIGITAL ISSUE "TRANSPARENCY"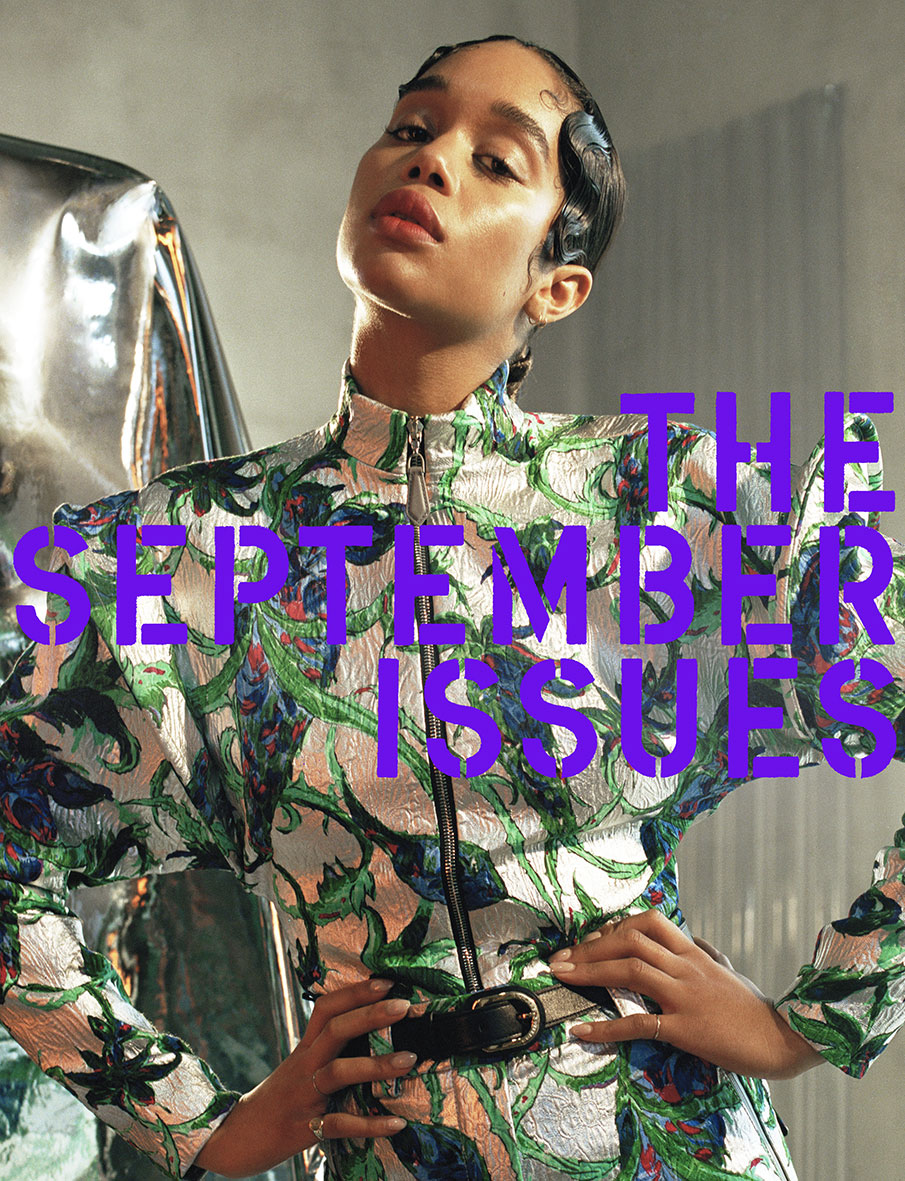 In keeping with our theme of transparency—in art practice, media, politics, and our emotional lives—and our ongoing collaborative, participatory approach to featuring artists, we invited actor Laura Harrier (best known for her performance in Spike Lee's BlackkKlansman and most recently as Camille Washington in Netflix's 'Hollywood') to decide how she wanted to be profiled. She flipped the script on a traditional interview, and asked her close friend Bria Vinaite (The Florida Project, The OA) over to her house for a candid, authentic, and thought-provoking conversation—where they asked each other the questions. I sat down with the pair, who co-star in the forthcoming film, Balance, Not Symmetry, on an overcast April day in Los Angeles. The two up-and-comers consider their private and public lives as artists, how creativity can affect social change, the pitfalls of celebrity activism, and how transparency manifests in social media, life, and work.
leather bodice WHITAKER MALEM | pants EQUIPMENT | shoes DROME
BRIA VINAITE INTERVIEWS LAURA HARRIER
Bria: How has your life and previous experiences cultivated you into the artist you are now?
Laura: I was a really shy kid. I couldn't talk to people. My mom put me in acting class, because she was like, break out of your shell! So…being able to explore emotions and experiences and different walks of life through other people is something that I was drawn to about being an artist and being an actor, because I was scared to do that on my own for a long time I think. And I'm definitely less so now, but growing up that felt really scary. And I'm really grateful to get to do what I do.
"I'm really grateful to get to do what I do."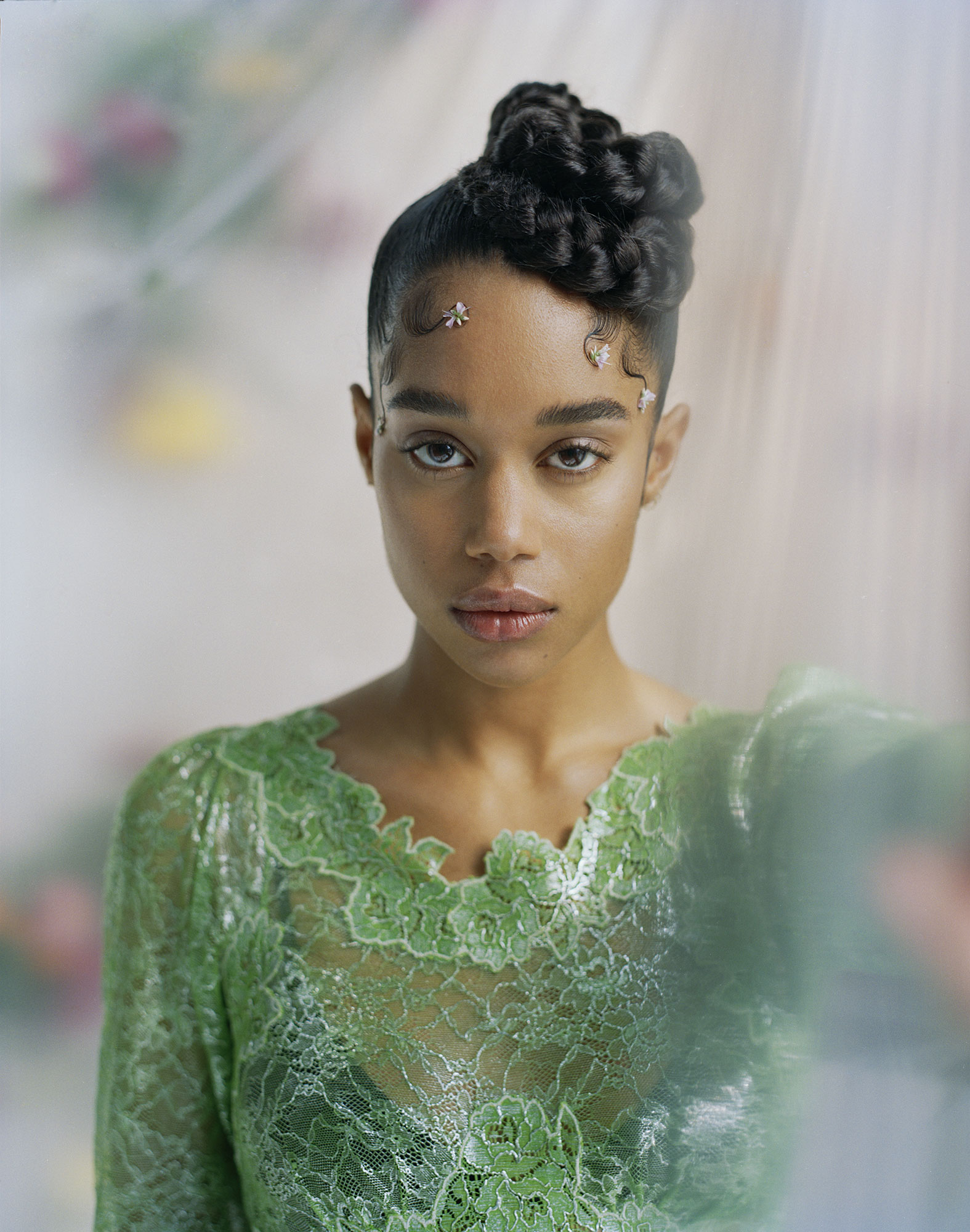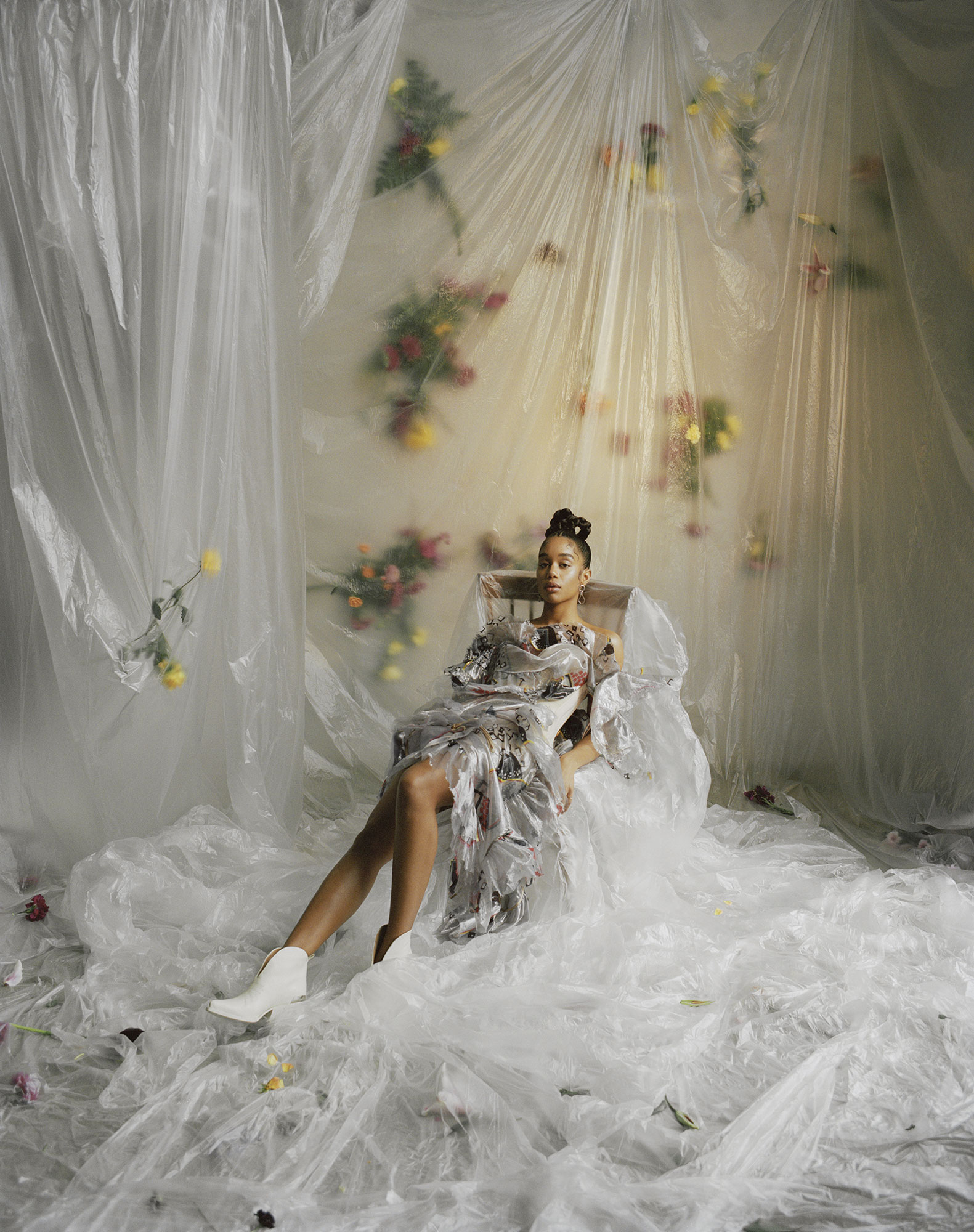 dress VIVIENNE WESTWOOD |earrings MARIA BLACK | shoes DROME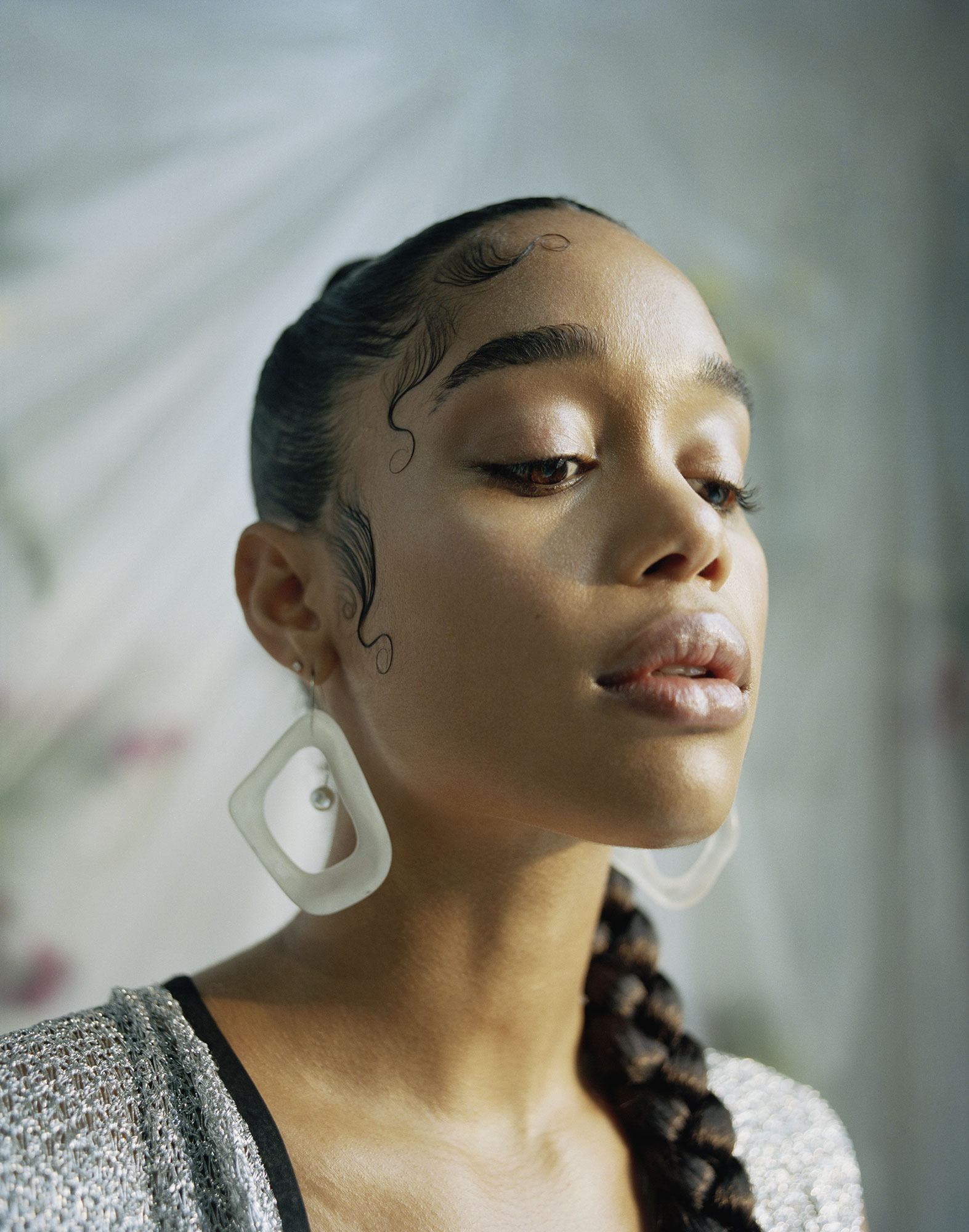 earrings IRA MINE | dress PHILLIP LIM
Bria: What has been the hardest adjustment in your life since it became more public?
Laura: Well, people thinking they know you from one tiny image of yourself. Tabloid culture is very weird. You think that you can know somebody and have an opinion on people and their connections with people and what they're doing, and you have literally no idea. So, that part is strange. I grew up a very normal girl in Chicago. This is so far from the reality of the vast majority of my life, so it's been an adjustment.
Bria: Do you need a platform to express your creativity or are you happy creating just to create?
Laura: I think our job [as actors] is funny because it is intrinsically for other people. It's not like you're a painter and you're alone and you can just make this beautiful thing and no one needs to see it. I guess what we do is a public medium. That's why I also like doing ceramics because then you can just make something to make it and to have that creative outlet, instead of it being so public.
Bria: Do you think it's possible to open and honestly create while still maintaining who you are privately?
Laura: Yeah, that's why I like acting! Because I can have all those expressions and emotions and feelings but it's not me. I can do all this crazy shit, but it doesn't have to be myself…it's scary putting your emotions and thoughts and stuff out there. It's important, but it's freeing to be able to do it through a character, and not just as myself…it's also nice because you don't know how what you're making is going to affect other people. That's what's so cool about film….you don't know how that's going to affect someone else or open their minds, or change their minds. It expands people.
"I think fashion can stand for something larger than itself."
LAURA INTERVIEWS BRIA
Laura: How do you feel that your public persona and social media represents your private life?
Bria: I think that it's definitely cultivated, and it's what you want people to see…I never used social media for business, and then once I started acting I just became much more aware of all the stuff I was putting out there. I sort of just tamed it down a little, but it was a personal decision…I felt like it was time, and I was sort of growing into myself, so I fell into it…
Laura: But I feel like you do share more of yourself.
Bria: I do, but I also feel like I haven't as much lately…there's a balance…it's about learning what things to keep to yourself. It doesn't change who I am. But I definitely have a finsta for all my fun…The world is a very sensitive place right now. I would never purposefully or accidentally want to offend somebody…so I have my own place to put my things. It's helpful to have that stuff.
dress KHYELI | shoes STYLIST'S OWN | earrings ANNIE COSTELLO BROWN
Laura: How has your life and previous experiences cultivated you into the artist you are today?
Bria: Growing up in Brooklyn and New York in general just made me so much more open to the otherness of the world, and different cultures, different kinds of people. And as I grow, every job I have I utilize all my past experiences and the people I know… If I didn't grow up where I did, I don't think I would be able to understand so many different kinds of people and use my past to benefit my future.
Thea: What does the power of the femme mean to you?
Laura: Power of the femme means living your most authentic life, and doing that for yourself and for the people you love and the things you hold dear. Transparency is all about your relationships with people.  And just being a powerful femme.
Bria: Power of the femme means owning your power. And knowing that it's all right there, nobody can take it out of you, and it's yours. You're all super powerful.
"Power of the femme means living your most authentic life, and doing that for yourself and for the people you love and the things you hold dear. Transparency is all about your relationships with people. And just being a powerful femme."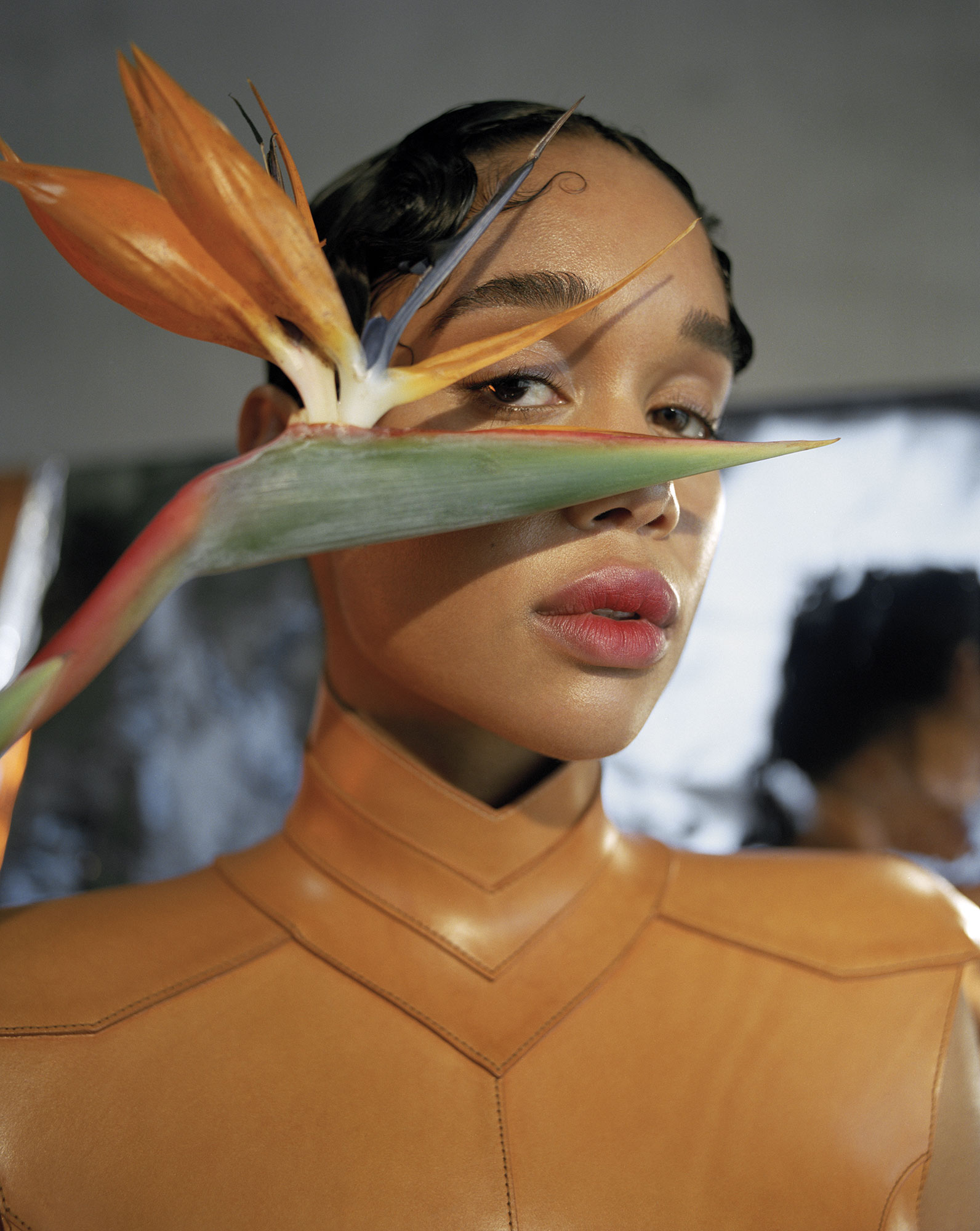 leather bodice WHITAKER MALEM
digital artist LISANNE LESSE KUTA | dress PRISCAVERA | bodysuit STYLIST'S OWN