Voo Le Voo
LOVE + CONNECTION vol. 01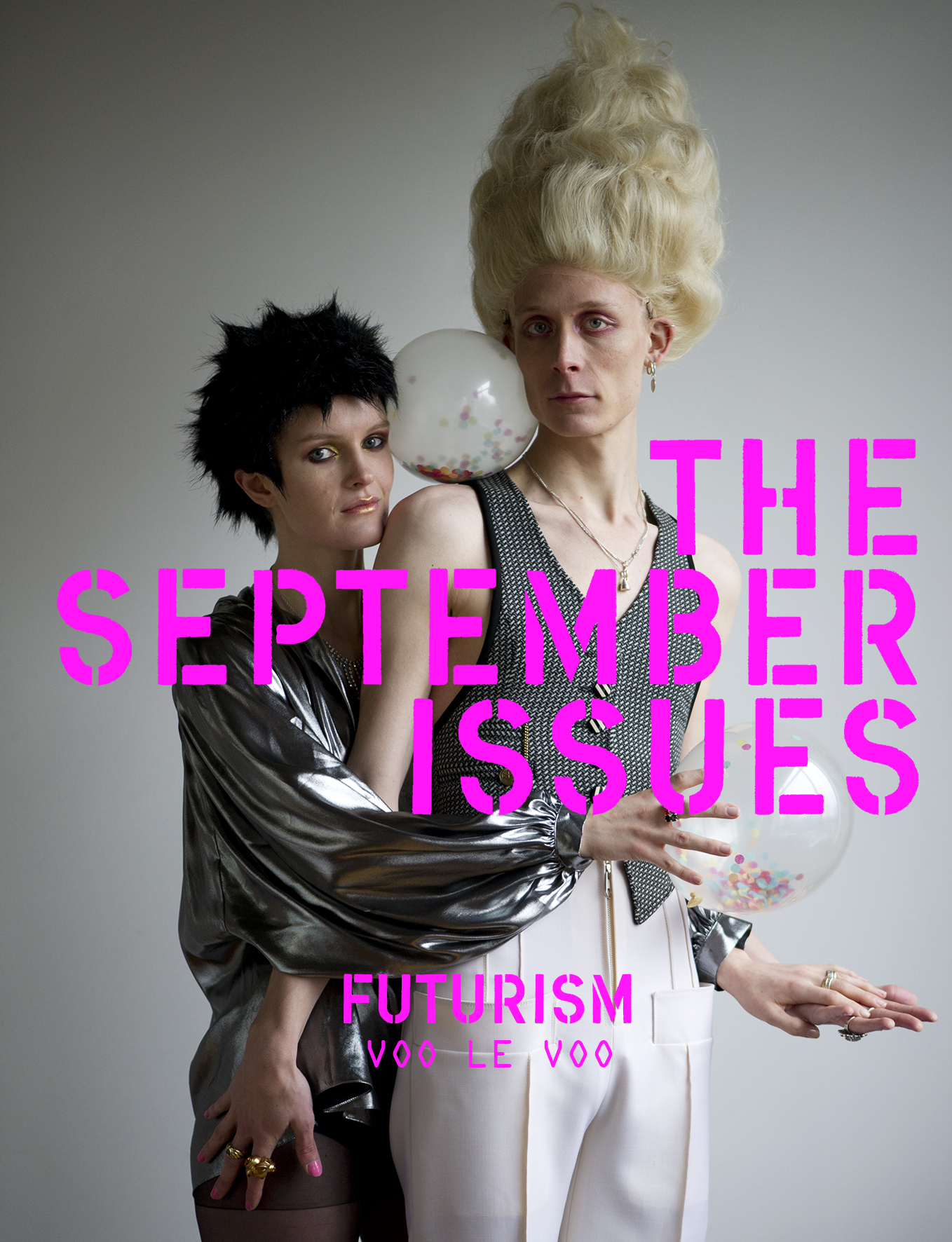 SPECIAL THANKS to BEN ANDERSEN and WILL WENTWORTH-STANLEY
for letting us shoot at TWYFORD ABBEY
 fashion assistants YURIKO TAKIGUCHI, CRISSY BATALLA
cover look:  hugo/ LOUIS VUITTON  |   lily/  HILLIER BARTLEY
a portfolio 
photographed by ARI ASHLEY
 fashion director  CATHY KASTERINE
When I first thought about what Futurism meant to me, I could only imagine the ideas of love and connection being reliable concepts that I wanted to project as my idea of the future.  And so I planned my shoots with the ideas of friendship (Laura Bailey's portraits of friends), romantic love (Ari Ashley's wonderful images of her daughter Lily and her boyfriend Hugo) and sensual intimacy (Indigo Lewin's brilliant pictures of touch and the body). I felt that, within the uncertain times that we found ourselves in, that these projects tapped into the energies in life that were really important – love and connection – the energy that sustained us and made our hearts full and our lives inspired.
Since then we have been plunged into more uncertainty with the Corona virus and all the ensuing fear and restrictions that it has brought with it.  I am writing this in week 6 of lockdown from my garden. More than ever the forces of love and connection are what we need, and yet they have been so compromised for so many in self-isolation.  I look back at these shoots and marvel at the joy and freedom that we luxuriated in when making them.
I feel a huge gratitude for the collective coming together of the teams that made the shoots happen, something that is now not possible.
We have all slowed down, edited and refined our existences and rely on much less to give us that sense of connection.  Maybe we have found it within ourselves, connecting with the glorious light of early summer on our daily walks, or the joy of being with family without any distractions.  The collective sense of surrender to what is happening has taken away the impulse to be busy and we have found
a new way to be that reveals our capacity to love and care for family and for those in need.
I hope we are able to retain some of this empathy and joy in others as we go back into life in its new form – and not to lose this connection and to trust that love is a powerful force that will see us through.   -Cathy
Love is all there is love is all there is   we are told and told and told again and again and again                      fuck that                      fuck that so hard
it is a pile of shit                                              love is a trap
love is a trap of self abuse
find a partner               love them         find a partner   that loves you
find a friend                 love them         find friend                   that loves you
have children   love them         and your children        will love you
you will be in love for the rest of your life                              for the rest of life         fuck that                      fuck that                                              FUCK THAT
because it happens fucking fast
it happens fucking fast                     la la la BOOM…
…look we're alone in this room
and you are looking at me and I am looking at you
and we both know what we are about to do
at last, to ourselves                  we'll encompass each other
each other        at last              we have found a lover
a lover             a lover                        we are falling in love
and fuck me this emotion was sent from above                    i'm juggidy  I'm jaggedy,    I'm dripping in lust             maybe I'm hazy
but I'm not gonna fuss
come here companion and share this time                   lets go on this trip
lets make you mine                  lets make you mine and make me yours
and lick and kick 'gainst broken doors
Great                           now you're mine                                lets change our tune
lets panic that it's all happening too soon
lets worry that we've been going to fast
this boring relationship could never last                                  you piss me off
but I guess it's okay                                everyone else does it day after day
the whole world's in love         so it must be good
gotta stick through this sadness                                       everyone thinks you should
cos they may not be perfect                 but they will do                       and don't forget how much they love you                                           they love you                  you fool can you ask for much more?                         maybe a little attention? Yea but sure
sure they aren't present                                          and seem to hate what you speak
but they used to listen                                   it just YOU'RE not at YOUR peak
you've been through the fazes and now you are settled
been in the riot of love and now you are kettled
you're trapped                                     you're surrounded                    there is no getting out
and this "love" doesn't listen                                                   even if you shout
so                                                       you're not so perfect in your sweet loving soup
in fact                          your darling                            makes you want to puke
by being an idiot and cracking shit jokes and talking of sailing imaginary boats
to impress some dick   or cunt             or prick
and make them selves feel                                     slightly           less                         thick
and you do the same                you pass your time
telling everybody         how you feel so fine               and how you really feel stable and everything's well  since you found your love                   and promptly fell
fell head over heals into the pond of love                                            where it's foggy and your drowning and you want to be above         above                           in that anxious panicky space
where the world feels scary                 and like a race                      where you're single                                                         insecure                                 and covered in fear
that you will end with nothing                                                              and nobody near
nobody to hold you hand through pain                       nobody to rid you of your shame
nobody to keep you on a trodden track                  nobody to hold your madness back
But what is so bad about being mad
                        what is so bad about feeling sad
what is so wrong with being strange
being a nutjob                                                                          being deranged?
the whole fucking world is covered in squares
and your cute little love never ever dares
to tell you their                                    bored                           of your docile eyes
and you're                                           bored               of their silly repeated lies
that are all for show and boring at home
when you're trapped with their habits drenching your home
but you carry on                      cos that's what is done            follow the rules
and you will have fun  and you decide…oh shit          lets have a child
we've been together so long its really wild                             so you try for a baby
and you get one some how                              get milk in your tits like a fucking cow
and you let them clamber all around your brain
and they take away quite a lot of the pain                                cos suddenly the world isn't about you           but about their generation…generation new
and you look at them grow                  hope they'll be okay              wonder first words what will they say?            and they grow up and out                    or up and in
get fat                          pretty                                       ugly                             thin
succeed in stuff and fail at others                    just like their father and their mothers
then one day you think                                                            fuck this really sucks
they are at the beginning and               they got all                   this               luck
and                              I feel pretty shit about myself                          cos I am trapped                      in this love                                   trapped on a shelf
and yes the shelf's clean and made out of gold                                   but the truth is… I feel fucking old                 and I'm looking back at what I've achieved…
and I sort of don't know what else I need                                   I've done it all right I've ticked every box               but       I feel like there is something I have forgot